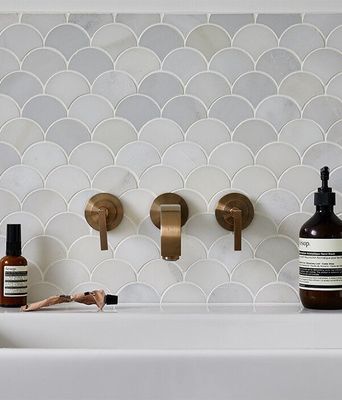 Long Island Marble Scallop Mosaic
Price per sqm
£26.00
A classic white marble with grey veining in our tumbled finish. This stone is a beautiful and durable material that pairs beautifully with our Kendal Marble to create a chequerboard effect.
Material - Marble
Finish - Honed
Suitability - Domestic/Light Use Commercial Interior Floors, Wall Tiling
Sold per sheet. 13.7 sheets per m².

Size - 27 x 27cm 1.0cm
Price - £26.00 per sheet
Price - (£356.86m²)
Please note that natural stone and encaustic tiles require sealing. Want to know more? Stone And Tile Care
SKU: 10115-1-1-3