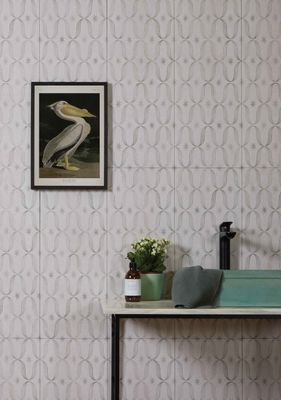 Architectural Elements - Wimpole Hall - Pewter
Price per sqm
£79.38
The first of our ceramic wall tile range within our Architectural Elements collection, Wimpole Hall makes a stunning statement on feature areas within kitchens and bathrooms. Inspired by a pattern found on wallpaper in the Lord Chancellor's bedroom at Wimpole Estate, the tiles work vertically as well as horizontally.
Sold per box
COLOUR : Pewter
MATERIAL: Ceramic
STYLE: Patterned
SIZE: 28 x 70 cm
BOX QTY: 7 tiles
SQM/BOX: 1.37 m²
PRICE: £108.75 per box inc VAT
PRICE: £79.38 / m² inc. VAT
USAGE: Wall
AVAILABILITY: Typically 3-5 working days
Carriage charges will be applied.

SKU: 10000-63