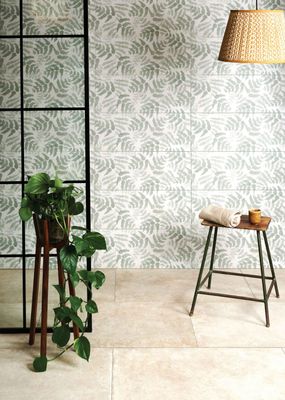 Glendurgan - Fern Olive
Price per sqm
£79.38
In Olive or Warm Grey, this ceramic wall tile tells the story of the native ferns and moss that grow in this part of Cornwall, intertwining themselves at the foot of older trees. It looks stunning as a feature area in a cloakroom or en-suite with soft neutral fixtures and furnishings to balance the decorative effect. With a nod to the botanical trend for contemporary kitchen and bathroom décor, Glendurgan is available in three patterns – Exotic, Wild Flower and Fern.
Sold per box
COLOUR : Fern Olive
MATERIAL: Ceramic
STYLE: Patterned
SIZE: 28 x 70 cm
BOX QTY: 7 tiles
SQM/BOX: 1.37 m²
PRICE: £108.75 per box inc VAT
PRICE: £79.38 m² inc. VAT
USAGE: Wall
AVAILABILITY: Typically 3-5 working days
Carriage charges will be applied.

SKU: 10000-63-2-1-1-2