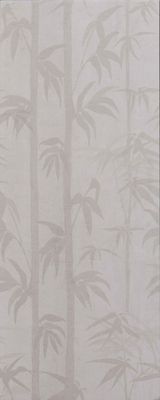 Glendurgan - Exotic Warm Grey
Price per sqm
£79.38
Available in Grey and Olive as well as Warm Grey, this 28 x 70cm ceramic wall tile is a contemporary decorative print with shoots of bamboo, ferns and the paddle-like leaves of banana plants. We think it would look wonderful in the bathroom as a feature wall, perfect for a relaxing scheme where you can unwind after a long day.
With a nod to the botanical trend for contemporary kitchen and bathroom décor, Glendurgan is available in three patterns – Exotic, Wild Flower and Fern.
Sold per box
COLOUR : Exotic Warm Grey
MATERIAL: Ceramic
STYLE: Patterned
SIZE: 28 x 70 cm
BOX QTY: 7 tiles
SQM/BOX: 1.37 m²
PRICE: £108.75 per box inc VAT
PRICE: £79.38 m² inc. VAT
USAGE: Wall
AVAILABILITY: Typically 3-5 working days
Carriage charges will be applied.

SKU: 10000-63-2-1-1-1